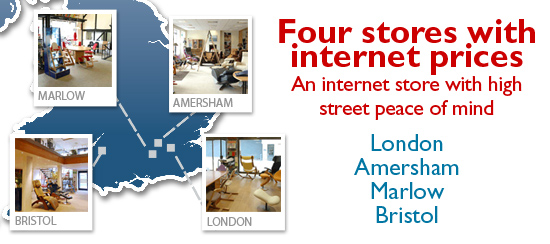 Terms: We strongly advise that you inspect before purchase. All shipment costs are to be borne by the purchaser. Please don't hesitate to contact us with any questions.
To show your interest in a product listed below, either click the Reserve This Item button
Or call 01494 434343 during working hours.
Click a button to jump to a specific clearance category:
Can't find what you want? Why not contact us ...
At Work
---
---
---

Location: Amersham

1 x HÅG H04 4600

Fully adjustable with full floating tilt mechanism. Large size Backrest. Upholstered in Red Comfort faux suede. Black Ultra Frame. No armrests.

Clearance Price: £520.00 each inc vat (+ p&p)
Current RRP: £798.00

More Information / Reserve this Item


---

Location: Amersham

1 x Varier Wing Kneeling Chair

Varier Wing Kneeling chair in Beige Fame on a Natural Beech Base.The Wing is an unconventional working chair with wheels, swivel and tilt functions

Clearance Price: £480.90 each inc vat (+ p&p)
Current RRP: £687.00

More Information / Reserve this Item


---
At Home
---
---
---

Location: Amersham

1 x Casada Massage Chair

Casada Smart II Massage Chair - Black Leather - Music Player Plug-in, 2 speaks built into headreast, massages in time with music. Kneading, rolling and tapping massage.

Clearance Price: £899.00 each inc vat (+ p&p)
Current RRP: £1,599.00

More Information / Reserve this Item


---
---
---
---
---
---

Location: Amersham

1 x Skovby DC06 - Cherry

Fantastic Extendable Circular Table - Skovby DC06 in Cherry - Within second you can swivel the top and extend the table to fit 9 people (12 at a squeeze), and no-one has the table leg in the way.

Clearance Price: £1,500.00 each inc vat (+ p&p)
Current RRP: £2,100.00

More Information / Reserve this Item


---

Location: Amersham

1 x Skovby DC06 - Oak

Fantastic Extendable Circular Table - Skovby DC06 in Oak - Within second you can swivel the top and extend the table to fit 9 people (12 at a squeeze), and no-one has the table leg in the way.

Clearance Price: £1,500.00 each inc vat (+ p&p)
Current RRP: £2,100.00

More Information / Reserve this Item


---
---
---
---
---
---
---
---
---
---
---
For Children
---
---
---
---
---
---
---
---
---
---
---

Location: Amersham

1 x Stokke Care with NaturalMat Mattress

Old style Stokke Care in walnut - with wheels, a unique NaturalMat mattress and 2 plastic side containers.

Clearance Price: £250.00 each inc vat (+ p&p)
Current RRP: £429.00

More Information / Reserve this Item


---
---
---
---
---
When Asleep
---
---
---
---
---
---

Location: Amersham

1 x Metal Base with Mirroform Mattress

Double (135 cm x 190cm) - White Metal Base, with Mirroform Perfect Comfort Mattress - optional TempraKON Temperature Regulating Duvet and 2 Putnams Pillws

Clearance Price: £950.00 each inc vat (+ p&p)
Current RRP: £1,650.00

More Information / Reserve this Item


---
---