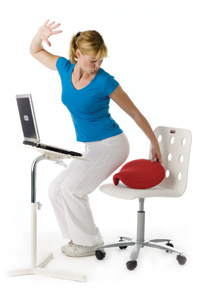 Wow!
You must experience this product to understand why we rate it the best new product we've found in 5 years.
It ticks all the boxes ~ tackle back pain ~ activate & strengthen core muscles ~ feel better in yourself. Light, Elegant, Strong, Portable, made to first class standards.
This item is the best choice to start your journey into active sitting. Our Director found this on an overseas trip and it's Exclusive throughout the UK to Back In Action and The Back Shop. We've already bought in a huge stock to meet demand.
Try it in store now or order it on our 7 day home evaluation.
Why is it soooooo good?
The Human Tool generates wonderful movement. The best we've experienced. The ball and saddle design will keep your body truly active during working hours, which ensures you feel energetic. Most will become fit enough to eventually sit all day long with poise and improved posture. (NB: Allow a week or so for your muscles and coordination to develop … then slouching can be a distant memory.)
Suitable for: Children from 10 upwards, Teens, Students, Horse Riders, Adults 20 to 90.
---
Transform any seat into a saddle chair
Encourage correct, upright posture
Ball construction gives 360° movement
Activate core muscles while working
Includes "

FREE

seat firmer Disc" to place on very soft seats.
Image GalleryClick images for a larger view.