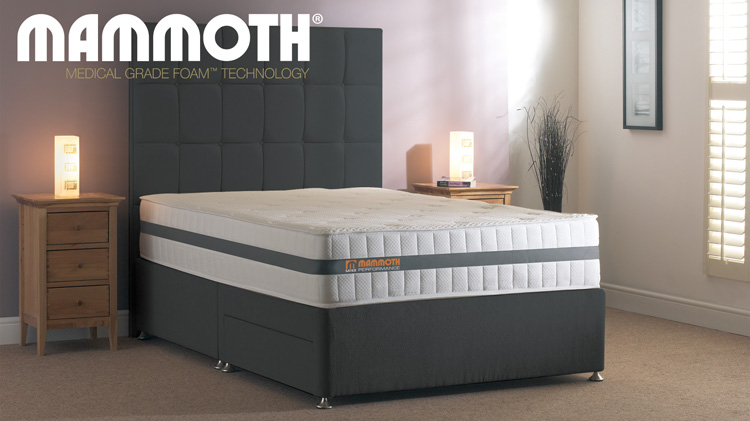 The Mammoth Performance Mattress combines leading technologies and manufacturing techniques to create the next generation of foam mattress. The Mammoth Performance is made of High-Specification foam, a new material that has great qualities - pressure relief, spinal support and temperature control. It's castellated with 3 Posture Zones to support the body where it is most needed. It is finished off with a Tencel 4-way stretch cover that is hypo-allergenic, made from sustainable, natural resources and never hammocks so your body is always fully supported.
The Mammoth Performance Mattress has been designed from top to toe with back care and health in mind.
This mattress has also shown great benefits within the sports and athletics worlds, with many sportsmen and Olympians using this mattress as part of their preparation for 2012. The superior nights sleep that they have gained from using this mattress has allowed them to train longer and harder. Including Louis Deacon (England and Leicester Tigers Second Row), Joel Jameson (Elite Ironman Athlete) and Liz Yelling (Team GB Marathon Runner).
Qualities of High-Specification Foam
Not heat sensitive
It doesn't take time to warm up so will instantly reach its optimal performance
Moulds to your body, gives great pressure relief and spinal support
Responsive up to 40st
The history of mattresses is an interesting one (well ... to us at least), particularly when you think about the construction of mattresses. Springs in sprung mattresses were initially made for machinery, memory foam was designed by NASA for when shuttles re-enter the atmosphere from space, but High-Specification medical foam was designed specifically for sleeping.
What are the 3 Posture Zones?
The Mammoth Performance Mattress has 3 distinct sections. Section 1 and 3 (head and foot end) are slightly softer and have greater pliability. This allows the head, neck, shoulders and legs to have more circulation which helps recover stiffness within muscles. Section 2 (torso) is slightly firmer to give greater support for the heaviest section of your body.
This results in improved spinal alignment throughout the night.
The Tencel Stretch Cover
This unique cover stretches in all directions and allows your body to fully mould into the mattress. It removes any hammock affect where part of your body will be incorrectly or unnaturally supported.
The cover is Hypo-allergenic, absorbs excess moisture and dries more quickly than cotton using the airflow through the mattress. It is made from completely sustainable, biodegradable resources and generates no hazardous bi-products.
Style and Sizes
The Mammoth Performance comes in 3 sizes – 20cm, 22cm and 25cm.
The 20 and 22cm are solely High-Specification Foam, whereas the 25cm is separated into 21cm of High-Specification Foam and 4cm of Super-Soft Latex. As you could imagine the 25cm mattress has a more luxury feel, but this can take away performance of the High Specification Foam.
The differences between the 20cm and 22cm are subtle, but to some of the more sensitive clients this can feel like a big difference.
Image Gallery
Where can I try it?
As with any mattress, we highly recommend that you try before you buy, you can try this mattress and others at 3 of our stores.
Request information and enquire about the Mammoth Performance Mattress
The Mammoth Performance is unique in the mattress market. If you are interested in the high-specification foam, you have to try-before-you-buy.
We therefore do not publish prices or quote a price over the phone or email.
Speak to one of our sales staff in store.