The Back in Action electrically height adjustable desk is a terrific option for anyone from home users through to multi users in large office environments. It is simple to use with an easily accessible switch placed on the front edge of the desk. The smooth mechanism takes you effortlessly from a seated work position to working standing up, enabling you to improve your working environment and to work in a healthier way.

At Back in Action we all work at sit-stand desks and wouldn't have it any other way! We find that posture is improved, circulation is stimulated, we are less fatigued and productivity is greater, plus it helps the waistline!


Back in Action Sit-Stand Desk
Many of the conditions/problems we come across whilst assessing people for chairs are caused by their desk height not being correct. With a sit-stand desk that is no longer an issue and is great if you need a desk that is going to be used by many people of varying heights.
These desk frames are extendable so if you initially have only limited space, but your circumstances/office space changes in the future all you need to do is change the top!
Available generally in 2 weeks
Delivery and Assembly (mainland UK) is included in the price
Minimum width 1000mm – 2200mm (maximum)
Minimum depth 600mm maximum depth 1000mm
Height 63.5 – 127cm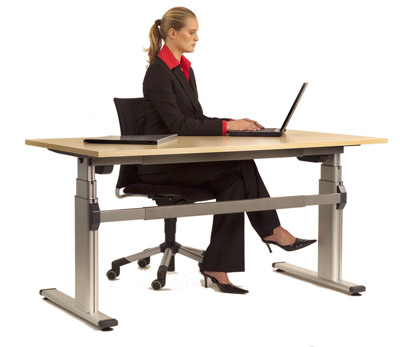 Back in Action Sit-Stand Desk - from sit to stand at the touch of a button
Sit Stand Desk Woods
Click the thumbnails below for a larger view.
---
Back in Action Adjustable Desk - 100cm/80cm
£

796.00
Melamine Top
Width/Depth - 100cm/80cm
---
Back in Action Adjustable Desk - 120cm/80cm
£

846.00
Melamine Top
Width/Depth - 120cm/80cm
---
Back in Action Adjustable Desk - 140cm/80cm
£

896.00
Melamine Top
Width/Depth - 140cm/80cm
---
Back in Action Adjustable Desk - 160cm/80cm
£

946.00
Melamine Top
Width/Depth - 160cm/80cm
---
Back in Action Adjustable Desk - 180cm/80cm
£

996.00
Melamine Top
Width/Depth - 180cm/80cm
---
Back in Action Adjustable Desk - 160cm/80cm
£

1658.00
Perspex Top
Width/Depth - 160cm/80cm