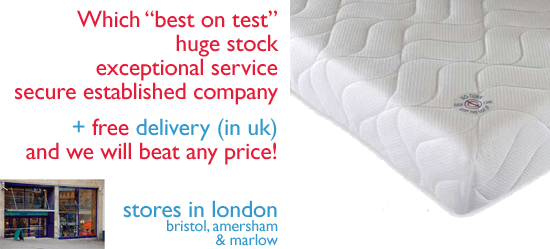 order online now - see below
OR call us on 01494 434343 for skilled advice or to order by phone.
Why buy from Back in Action
Our aim is to be the best in every way:
Our products are genuine
We have Memory Flex in our warehouse for fast dispatch
We carry the mattress to your bedroom (important information)
We promise the lowest prices in the UK
We quickly answer any questions or concerns you may have
Memory Flex can help many people with back and neck problems. If you have doubts
contact us
. At Back in Action we are here to help and if you wish we can suggest a variety of alternative and complementary solutions.
Please note that our
Amersham
and
Bristol
shops display Memory Flex mattresses. Our other stores may not always have Memory Flex on display as they rotate products, but can take orders.
---
Beware of cheaper quotes:
Please beware: Many of our competitors only deliver to your front door. Visco-Elastic mattresses are heavy awkward to handle. We suggest that you should not attempt to carry the mattress yourself (especially if you have a bad back).

We deliver free of charge and our service includes installation of the mattress in your bedroom. This is why we send a two man team to your house to install your new mattress.
(Our two man delivery service is available throughout UK mainland - excludes Highlands and Islands).

If you've seen a much lower price, chances are it's a rogue product. What we are offering is the genuine mattress as tested by Which? Magazine and voted Best Buy. If you do find the same product cheaper elsewhere within seven days we will beat the price by £15.


---
Memory Flex from Healthbeds:
If it's value, durability and comfort you are looking for then this mattress was judged No.1 when tested by the UK's leading Consumer Magazine, Which? Magazine. We can deliver and install in a few working days.
Zero-rated VAT
We promise that our prices are the best you can get, but there may be a way to save even more! There is a little known VAT office concession which allows most Back in Action customers to buy certain products without paying the VAT element. If you (or someone who will be using one of these specific products) are suffering from a chronic/long term condition you should fully explore if this concession applies.
To make it clear: the 20% VAT saving is in addition to the low prices shown on the Back in Action web site unless it says otherwise.
To make sure you don't miss out on this concession here is a brief summary:
To claim the VAT concession both you and the product you are buying from us must qualify.
To decide if your condition allows the concession simply call us. We will talk you through the criteria.
If we agree that your condition justifies VAT relief Back in Action will deduct VAT on the following products:


All Adjustable Bases




Backinaction Mirrorform Mattress




Memory Flex Mattress




All Mattresses when purchased with an Adjustable Base




Altea Lifting Chairs




The Mobiliser

You will be sent a Back in Action Vat Exemption Form with your order confirmation, on which you will simply say your condition, sign it, and then post or fax back to us. We sign it, and keep it on file with your order paperwork. If you do not return the form inside 14 days then (of course) we will have to charge you the VAT.
VAT registered companies such as Back in Action have their VAT figures checked on average every three years. During this the VAT office will select a few forms and check that everything is correct from your side and ours.
To summarise: As a health orientated centre we are in a unique position to help you claim what is rightfully available. If your condition and the product you are buying qualifies then we will not charge VAT. We provide you with a simple form, and if this is correctly filled in we confirm that we will not charge the VAT. You don't need to provide us with any proof, but you may need to do so to the VAT office if they select your sale as a random check. The majority of Back in Action customers find they are eligible for this relief.
For mainland UK (excludes Highlands and Islands) all prices include installation of the mattress in your bedroom
. (
details
)
Healthbeds Dot-com Collection
Memory Flex 20cm Mattress - 2'6'' foot (75cm x 190cm)
RRP£658.00
£

493.33
---
Memory Flex 20cm Mattress - 3 foot (90cm x 190cm)
RRP£658.00
£

493.33
---
Memory Flex 20cm Mattress - 4' foot (120cm x 190cm)
RRP£715.00
£

536.67
---
Memory Flex 20cm Mattress - 4'6'' foot (135cm x 190cm)
RRP£715.00
£

536.67
---
Memory Flex 20cm Mattress - 5' foot (150cm x 200cm)
RRP£825.00
£

619.17
---
Memory Flex 20cm Mattress - 6' foot (180cm x 200cm)
RRP£935.00
£

701.67
[ Got Feedback? ] Recommended by: Our Customers
"I am actually writing as I would like to thank everyone at back in action for the excellent service I received from the company. The sales people were knowledgeable, informative and not pushy. For all contact I had with staff they were polite, helpful and prompt in dealing with subsequent enquiries about the order. If I can also say that the delivery men, who I appreciate may be part of another company, were charming on both ocassions. I would gladly use your company again should it be necessary and would recommend it to others. I hope the present difficult times are not to hard on you all as a business and indvidually. Also the mattress (healthbeds) seems to be helping my back a lot."