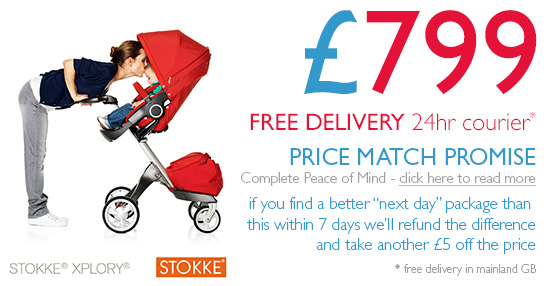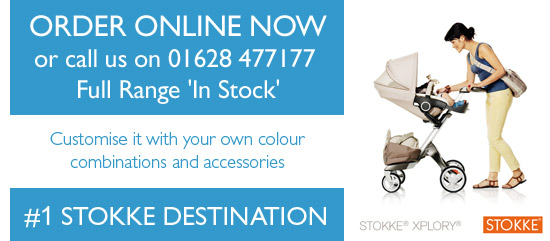 Xplory: This pushchair is the ultimate system for parent and baby. The most refreshing aspect is its adjustability. Not just for the child but for the parent too:
Forward facing - so little eyes can see the wonders of the big wide world
Backward facing - great position for you to interact with your child
Up High - away from dirty ground and exhaust fumes and can act as an instant highchair. The diagonal frame makes it easy to bring the stroller close to the table so it is not obstructive.
Down low - adjust the height so they can join in the fun round a coffee table
Upright - When they are awake and alert
Lay Back - When it's nap time
Multi-adjustable handle - Comfortable for all parents, no matter what their height
Swing back wheels - will help you negotiate those stairs easily, and smoothly
Click images for a larger view.
Solid Rubber Wheels: Never need to worry about getting a flat tire.
Babybag/Carrycot: Attach to the chassis to convert to a traditional style pram, with a very simple function to clip-on & clip-off. Balanced when removed for easy carrying.
Car Seat: Essential safety when travelling. Designed in partnership with Izi Sleep, to combine safety knowledge with Stokke's functionality. The car seat can be adjusted to lie flat or be more upright, and just like the babybag, is very easy to clip on and off the Xplory chassis.
Textiles: So many parents choose to have a second set of textiles, usually in a different colour. One for summer, one for winter, one for a boy, one for a girl, or to simply to freshen up the look with the latest fashions.
Parasol: As with all Xplory textiles, the parasol is UV protected - an absolute essential during the summer months. The bendy stem can adjust to block out the sun no matter where it is in the sky.
Summer Kit: Allows for added ventilation through the seat and gives extra protection from the sun.
Winter Kit: Warm and snug with real sheepskin trim and water resistant materials. The winter kit gives ultimate protection from even the most extreme winter conditions for the child, and with hand warmers that attatch to the handle your fingers can be as snug as your little ones.
Sheepskin: Add a bit of extra luxury, it's not a necessity ... but really adds to their comfort.
Rider: a little something for the older child, clip on the back of the stroller and away you go. And when you don't need it just fold it back up; it attaches magnetically and it's out of your way.
Pram Pack: We cannot recommend this enough if you intend on taking your Xplory or other stroller on an airplane. This travel bag has been designed in partnership with airline 'throwers' (a.k.a Baggage Handlers) to protect your Xplory. As a result the Pram Pack has been approved by airlines, so that in the unlikely event that your stroller gets damaged, you can instantly make a claim at the airport.
---
xplorybuy Xplory Xplorey explori explorie Xpley Stokke Xplory
[ Got Feedback? ] Recommended by: Our Customers
"I ordered a stokke xplory pram - was easy to order as listed as packages and couldn't believe it when arrived within 48hours. Was kept completely up to date with delivery times and arrived as planned within the delivery time slot. I have no complaints and would use again."
Jun 2014
"i recently purchased v3 stokke pushcair, it arrived the follwing day. i'll recommend back in action to everyone"
Feb 2014
"I heard all about Back In Action from a Stokke Lovers FaceBook page. I have waiting ages to buy a Stokke knitted blanket & found the best deal on Back In Action. I would definitely recommend using them. My blanket arrived so quickly & it's perfect. I'm now thinking about what i'd like to order next- a dangerous thought, but I'll be using Back In Action for sure!!"
Feb 2014
To see more customer comments, please click here