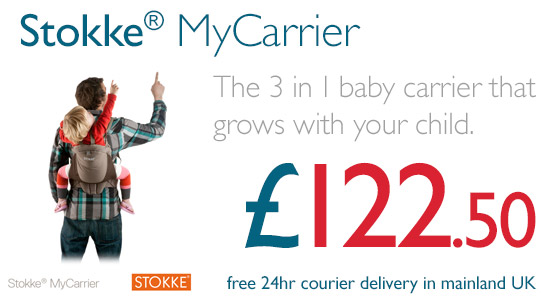 The Stokke ® MyCarrier is a 3-in-1 baby carrier that easily transforms as your child grows. Unlike a lot of carriers, the MyCarrier can be used in 3 positions and can be used from 0–3yrs.
The design has put particular emphasis on the ergonomic position of both you and your child, and includes multiple adjustable support straps, an aluminum support bar, and high tech safety devices that are found in high quality mountaineering equipment.
MyCarrier grows with your child and can change positions to suit their needs and curiosities. It allows them to develop at their own rate, while continuing to maintaining the closeness to their parent giving them the safety and security.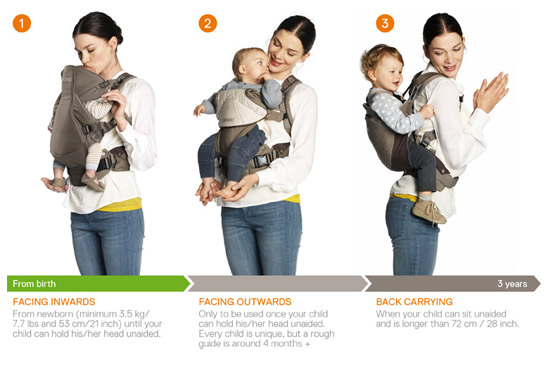 Front Carrier – Inward Facing
Typically can be used from birth (either 3.5kg/7.7lbs or 53cm/21in).
It brings the child into a great position, close enough to kiss, and allows you to continue the fundamental bonding between adult and child in the early months.
Babies need variation at the beginning, so we recommend the MyCarrier is limited to 10–15mins early on.
Front Carrier – Outward Facing
Every child is different, but from around 4 months the child can be turned round in the harness, this will keep them safely near you, but allows them to develop and start to explore the new world around them.
Back Carrier – Forward Facing
Once they reach 72cm/28inch, and can sit unaided, you may find it more comfortable to move to the back carrier position. At this point the additional aluminum back support must be used. If the child falls asleep, the handy sleepi support can be attached to give extra comfort to the child.
Maximum load 15kg/33lbs.
---
Stokke ® MyCarrier
RRP£139.00
£

122.50
MyCarrier includes three components - the main harness with integrated hip belt, front carrier, and back carrier. It's secured by double locking carabiners, and made from safe, soft, breathable, organic cotton textiles.
My Carrier Instructions
A slightly repetitive video, but a very good demonstration of how to the MyCarrier set up, and how change to change it from inward facing, front facing, and back carrying.
Stokke MyCarrierClick images for a larger view.