What is Sleepi™
Sleepi™ is an elegant crib and cot and bed that makes any nursery look more beautiful. It's gentle curved shape is such a contrast to normal sharp cornered cots.
Helping Children to sleep more soundly: How does Sleepi™ help? Children are known to experience sleep difficulties when they are moved into large beds after nurturing cots. With the Sleepi™ System your child can start with the MiniCot, then convert this to the full size cot (shown above) and then convert this into a first bed. That means your child is 8 yrs plus before they have to change bed!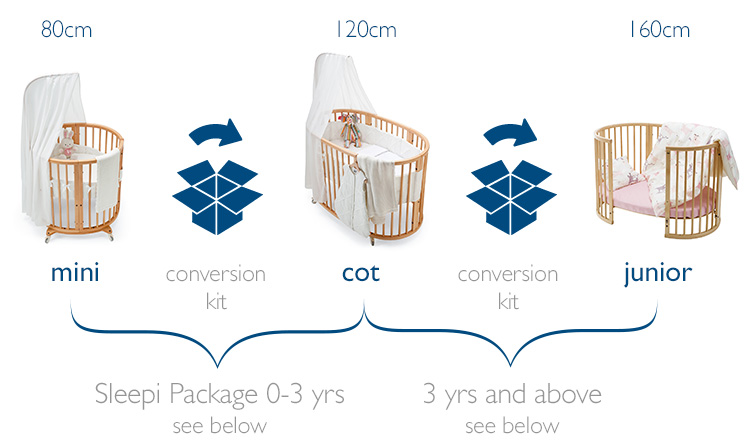 The MiniCot
This is small and can be placed close to your bed. Its small size creates a womb like nest in which babies can sleep soundly. The cot fits easily through a doorway and has wheels:- so you can place your baby in your bedroom if they have sniffles, and let them sleep in their bedroom at other times. Add a canopy and bumper for a romantic appearance and to cut down drafts a little. Add sheets blankets and sleeping bags for cold rooms and for a co-ordinated appearance.
The MiniCot is made from the Sleepi™ Cot plus some extra parts called the "MiniCot Kit". Purchase both together at a reduced/package price below.
Buy Online
- click here to buy Sleepi™ online
Sleepi™ Cot
As your child grows the height of the Sleepi™ can easily be adjusted. The Sleepi™ has four height positions. All the wheels are lockable for safety reasons. When the child begins to climb out of the bed, it is recommended that the side is removed for ease of access. This is ideal for toddlers.
Buy Online
- click here to buy Sleepi™ online
Sleepi™ Junior Bed Conversion Kit
As your child grows they will want a bed with room to stretch healthily, but they probably won't want the vast spaces of a full size bed. Nor will they want to give up all that play space. With Sleepi™ you just convert it again, once more increasing its length to form a uniquely shaped bed. This will keep children comfortable and feeling secure up to approximately 8 years. We are ergonomic experts...in a few years time just ask us if its time to convert.
Buy Online
- click here to buy Sleepi™ online
Beyond Sleepi
"Girl you'll be a woman soon". At Back in Action most of our staff have children approaching or past their teens. We know how rapidly time passes and how important it is to cherish every moment. When your child shoots up, and grows out of Sleepi™, you'll want advice on the best type of mattress and the best way to help them study. That's when you'll be glad you bought from us... ergonomic experts for all ages, not just a baby shop.
Special offer: Keep your Sleepi™ receipt and we'll give you a £100 discount from any adult size mattress you buy in six years time... or £50 off a kneeling chair to help with their homework... and don't worry if you lose your receipt as we'll have your records anyway!
Important: Tripp Trapp® is the best high chair around... and it lasts even longer than Sleepi™. We'll show you how it can keep children comnfortable for years to come... probably until they are in secondary school. Have a look at Tripp Trapp® - we suggest ordering one with your Sleepi™.