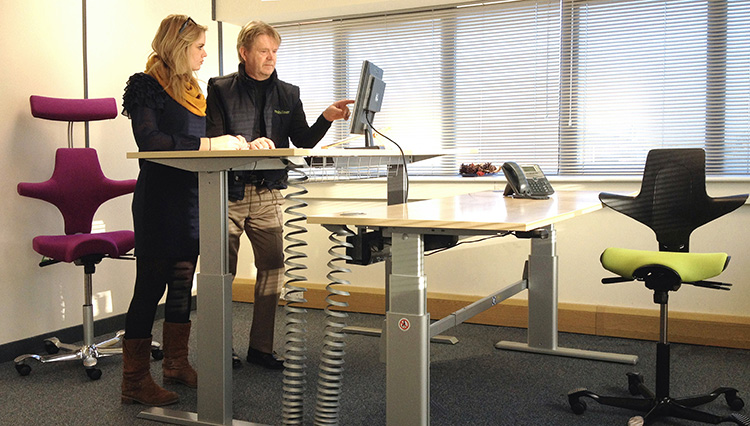 Sit to stand at the touch of a button
Sit-stand desking is great for health, productivity and your waistline! Back in Action's Sit-Stand range is the worth evaluating for its appearance alone.
"People are sitting down at work, then sitting in the car and then sitting down in front of the television" says Dr John Buckley.
"Your metabolic rate crashes to an absolute minimum. It isn't natural. Humans are design to stand up and keep moving."
Health:
We live in the body of a Hunter Gatherer, yet spend most of each day sitting still.
Not surprisingly we experience very reduced circulation in comparison with the ideal.
In particular our blood and lymph systems work too slowly, and only walking to the car park, the coffee machine or into the garden get us energised again.
By alternating your work between sitting and standing your body will at first feel a little tired, but it will be encouraged to get fitter, and after a few weeks the transformation can be complete. Those who mix sitting and standing in a balanced way report decreased back problems, extra vitality and less illness compared to those who work purely sitting down or purely standing.
Productivity:
There are two ways this is improved:
First an increase in health and vitality allows you to function better.
Second, the ease with which one can move while standing means some tasks are performed more quickly. (try the simple task of assembling and posting a letter sitting vs. standing).
Waistline:
The body we inhabit is designed for variety and movement. When we sit all day, even in a Back in Action chair, its not surprising our calorie burn is lower than ideal.
At Back in Action almost all our chairs increase activity and burn more calories by an estimated 20% which leads to increased fitness and alertness. Add the extra calories used by active sit stand work and you'll be fitter and slimmer ( if your calorie intake stays the same.) Of course, you may not like to loose weight, in which case you could always go for the extra bun instead, but we'd prefer it if you settled for increased fitness at least!
It really works (we use it!):
After trials at our Amersham shop we have installed Sit Stand workstations for all Back in Action staff. We have also installed these systems in home and commercial offices, with exceptional user reaction.