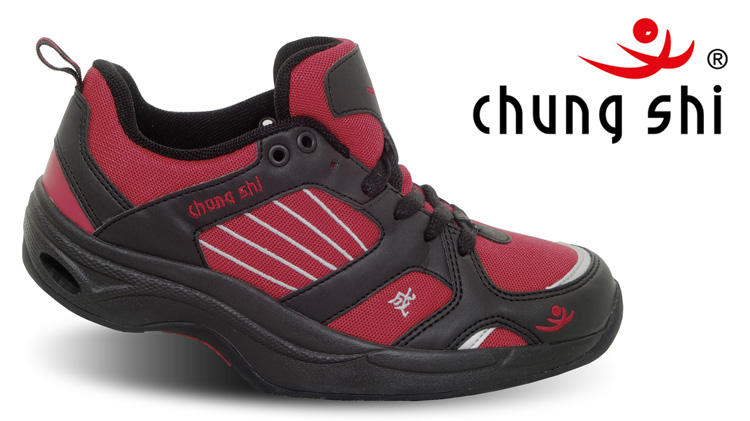 Get Fitter & Shape Up
The curve soles on Chung Shi shoes create instability while standing and walking. It is this instability that activates more muscles to keep a good balance and posture. Muscles from your neck to your feet will be working that little bit extra, and once acclimatised users report exceptional increases in vitality and wellbeing.
Chung Shi shoes come in two levels of rock. The stronger rock action is called Balance Step. This is normally chosen by those seeking to improve fitness and posture. The gentler rock action is called Comfort Step. Contact us if you are unsure of which style to purchase, or you can read more about how Chung Shi work here.
We hold most of our stock at our Amersham store, where you can get a free fitting and try some of our other Health and Well-being products. We recommend that you call before you make a special trip to make sure we have the style and size in stock ready for your arrival.
Chung Shi Comfort Step - Classic - Black
RRP £134
£80.40
Casual everyday wear (slightly gentler action)
Chung Shi Balance Step - Sport - Grey
RRP £129
£77.40
Trainer for casual clothing and exercise
Chung Shi Balance Step - Sport - Black
RRP £129
£64.50
Chung Shi Balance Step - Sympatex All Weather Shoe
RRP £145
£72.50
Walking the dog, power trekking?!
Chung Shi Comfort Step - Sandal - White
RRP £125
£75
For the Summer!
Chung Shi Comfort Step - Sandal - Black
RRP £125
£75
Chung Shi Comfort Step - Sandal - Brown
RRP £125
£75
Chung Shi Comfort Step - Sky - White
RRP £129
£77.40
Chung Shi Balance Step - Navy Flash
RRP £129
£64.50
Chung Shi Balance Step - Casual - Blue
RRP £129
£64.50
Chung Shi Balance Step - Promo - Red/Black/Silver Women
RRP £129
£75
Chung Shi Balance Step - Sympatex All Weather Boot
RRP £155
£90
Chung Shi Balance Step - Travel - Brown
RRP £134
£90
Chung Shi Comfort Step - Travel - Brown
RRP £134
£90