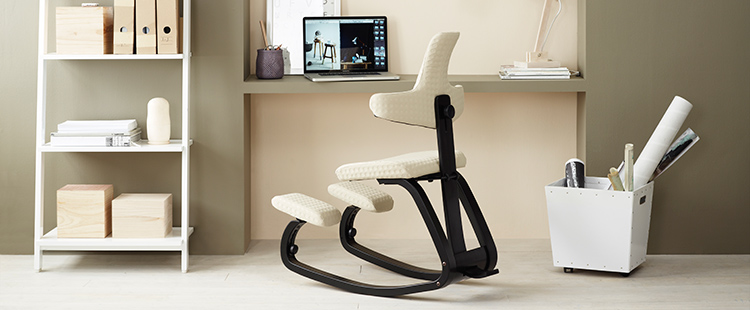 Kneeling Chairs - Excellent if chosen wisely
Let us help you choose the right chair for you
We are ergonomic specialists and we LOVE kneeling chairs. They work immediately to improve posture, stimulate movement and keep joints and muscles active while sitting. There are dozens of different makes and models of kneeling chair... so which one is right for you?
Over the last 25 years we've tried a huge range of kneeling chairs, from the cheapest to the most expensive, from the sleek and beautiful to the frankly weird; and we have whittled them down to just a few of the very best and reviewed them all below.
Quick links to our favourite chairs:

Varier Variable

Varier Thatsit

Varier Multi

Posture Chair

Varier Wing
What are kneeling chairs all about?
Kneeling chairs make sitting fun, but more importantly they increase health and productivity at the same time. The key to all good chairs is movement, forwards-and-backwards, side-to-side, up-and-down, the more movement the better. We call this active sitting. Once you achieve active sitting your core muscles will become stronger and you will find your posture will improve overnight, joints will be less stiff, and you will become more focused and have higher concentration levels.
When you sit on a kneeling chair you balance the spine properly over the pelvis – i.e. good posture! – On the best kneeling chairs, the rock of the chair is exceptionally good at helping you to keep good posture, even when you are tired.
Lets start with one of our favourites, the Varier Variable. It's one of the cheaper kneeling chairs in our range, but definitely one of the best ... and without a shadow of doubt, the best value for money.
The Varier Variable is a truly versatile chair and can be used at work and throughout the home (bedroom, dining room, lounge). With its ability to increase concentration and focus, it also makes a brilliant homework chair for children and can be modified to fit them perfectly. The Variable is available in a huge range of fabrics and colours, as well as our Exclusive Paul Smith fabric.
The Thatsit is another chair from Varier - a world-renowned furniture manufacturer - this is our favourite Varier kneeling chair in this list. It's simply because Varier make some of the greatest kneeling chairs in the world.
The Thatsit is similar to the Variable, but it's larger and comes with a more comprehensive backrest. The Thatsit, also designed by Peter Opsvik (he really knows how to design great kneeling chairs), moves and reacts to the body just as the Variable does. The Thatsit is ideal for people who have to sit for long periods of time either at home or work. Where it really distinguishes itself from all the other kneeling chairs is its brilliant backrest. Ideal for working, you can lean back take a few moments to gather yourself or take a call, before diving back into your work.
Another Peter Opsvik / Varier collaboration. The Varier Multi is a great kneeling chair for short to medium use. Any more than a few hours and you may experience excessive pressure on the knees. The Multi is suitable for a variety of tables, the height and seat angle can be adjusted simultaneously and the chair can be easily folded away for storage or transport.
Just like all Varier kneeling chairs, the chair comes in half a dozen wood colours and hundreds of fabric and colour options. Designed to create an open angle between the torso and thighs, the Multi gives you the freedom to decide just how open that angle should be. At its steepest setting, the Multi places almost as little strain on the back as a standing posture, while at its lowest it can function as a child's chair and worktable in one.
The cheapest kneeling chair in our range, but we love its simple design, style and comfort. It recently won 'best in test' from a leading magazine and is a good home kneeling chair. It is height adjustable (which is ideal if you have a non-standard height desk), it is on castors and is available in two colour options (Black and Grey).
It has been our experience that most 'budget' chairs place too much pressure on the knees, so this chair should only be considered if you plan to use it for short periods of time (typically not more than an hour).
One of the greatest benefits of this chair is its portability. It's an ideal choice for people on the go, spending an hour in a meeting before moving on to their next destination.
The Varier Wing combines the kneeling chair with a swivel seat. Aesthetically it looks more like an office kneeling chair and with a subtle but noticeable tilt function, it will keep you active and moving throughout the day.
The Varier Wing is height adjustable to fit most desk heights and the swivel makes it ideal for busy multi-taskers that may have several projects on the go: Paperwork to the right, phone to the left, computer buzzing away and with people behind you wanting your attention. As with all quality kneeling chairs it will keep you active and energised through the day.
Recommended by: Our Customers
Still getting used to my Kneeling Seat, and having to build up the hours of use...but so far so good. Very please. It is good quality. Looks good. Very comfortable and hoping it will aid my speedy return to work!

30/05/2013
I purchased the Balan Kneeling Chair, which does the trick perfectly. It arrived promptly. However, the wrong part was supplied, not enabling me to fit the back extension. Back in Action though very quickly supplied the replacement part, which works perfectly.

22/03/2013
My wife expressed interest in a 'kneeling chair' as a possible Christmas present, and dropped the name BackinAction.com as somewhere for me to start looking. It's not Christmas yet, so I can't comment on the chair itself, but the experence of researching, learning about, comparing options, and ordering just couldn't be easier. Exemplary service and extremely fast delivery has made my Christmas present buying chore much easier this year. Now I look forward to trying the chair itself if I can prise her off it!

18/12/2012
To see more customer comments, please click here