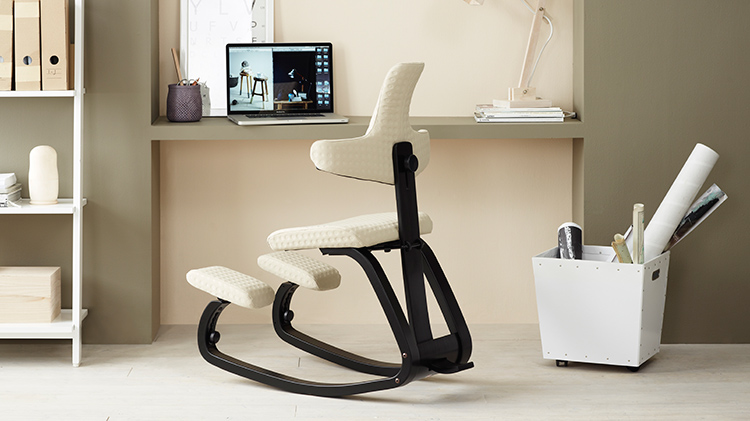 Kneeling Chairs - Excellent if chosen wisely
Let us help you choose the right chair for you
We are ergonomic specialists and we LOVE kneeling chairs. They work immediately to improve posture, stimulate movement and keep joints and muscles active while sitting. There are dozens of different makes and models of kneeling chair... so which one is right for you?
Over the last 25 years we've tried a huge range of kneeling chairs, from the cheapest to the most expensive, from the sleek and beautiful to the frankly weird; and we have whittled them down to just a few of the very best and reviewed them all below.
Quick links to our favourite chairs:

Varier Variable

Varier Thatsit

Varier Multi

Posture Chair

Varier Wing
What are kneeling chairs all about?
Kneeling chairs make sitting fun, but more importantly they increase health and productivity at the same time. The key to all good chairs is movement, forwards-and-backwards, side-to-side, up-and-down, the more movement the better. We call this active sitting. Once you achieve active sitting your core muscles will become stronger and you will find your posture will improve overnight, joints will be less stiff, and you will become more focused and have higher concentration levels.
When you sit on a kneeling chair you balance the spine properly over the pelvis – i.e. good posture! – On the best kneeling chairs, the rock of the chair is exceptionally good at helping you to keep good posture, even when you are tired.
This offers almost perfect design and function. The Variable's outstanding qualities are only exceeded by those of the Thatsit, but the Variable wins on price so it's our best-selling kneeling chair. It fits anyone from 7 years upwards. All chairs come with a 7-year warranty.
We believe that Thatsit is the ultimate kneeling chair. It allows the most movement and offers the greatest support. The chair has adjustable leg supports and can be adapted perfectly to the user, regardless of height.
Multi is made to an exceptionally high quality and has a 7 year warranty. It's a great chair if you need to sit for an hour or so and then fold it away.
Like the Posture Chair the Multi is suitable for occasional use. The knee pad pivots. Nevertheless we suggest one of the chairs below such as the Variable if you want an even better experience or to sit all day.
Multi is suitable for a variety of table heights and activities. Both height and seating angle can be adjusted simultaneously and the chair can be folded for storage or transport.
This is most people's idea of a good home kneeling chair; it won "best in test" in a leading consumer magazine.
The Wing allows more movement than either the Variable or the Multi. Wing is an unconventional working chair with castors, height adjustement, swivel and tilt functions.
The Wing also comes with either hard castors for soft floors or soft castors for hard floors.
Recommended by: Our Customers
Service from Back in action was very good. Although, the item I ordered was not quite in stock they offered to upgrade to the next material without additional cost and the chair arrived promptly thereafter. The kneeling chair itself is so for , after a couple days use, not quite as good as I was expecting. Still more pressure on the knees that I expected there to be.

10/01/2015
Still getting used to my Kneeling Seat, and having to build up the hours of use...but so far so good. Very please. It is good quality. Looks good. Very comfortable and hoping it will aid my speedy return to work!

30/05/2013
I purchased the Balan Kneeling Chair, which does the trick perfectly. It arrived promptly. However, the wrong part was supplied, not enabling me to fit the back extension. Back in Action though very quickly supplied the replacement part, which works perfectly.

22/03/2013
To see more customer comments, please click here