Back in Action Mattress
For when good sleeping posture is vital.
Installed for you with our safe 60 night trial.
Our best selling mattress... every year!
Best For Back Pain
Designed by the Europe's largest back care retailer, the Back in Action Mattress has been a wonderful success for those debilitated by back pain.
We've sold and installed thousands into the homes of our customers who love sleeping in great alignment, and their partners love them too... we get repeat orders for spare rooms, new houses, friends and family.
Back in Action clients tend to be those with long term back issues who are desperate for a good night's sleep. Many can be nervous before their purchase as other mattresses have failed them, that's why we offer a 60 Night Trial. We pride ourselves that over 96% of our clients keep the mattress after the 60 nights.
After you've been lying on this for a minute or two the feel is exceptional. Effortless spinal alignment occurs making it an excellent choice for sufferers of back pain... In fact... there is no reason why this shouldn't be chosen for those without back pain.
Key Features:
60 Night Trial - Click for details of how this can protect your back and your wallet.
We've supplied 10,000+ back care mattresses - This is our best yet.
Zero Rated VAT - for those with health problems.
Keeps spine, hips and neck in neutral position - Our recent in-store test showed the Back in Action Mattress was the best of all mattresses for spinal alignment.
Temperature and climate control with an Outlast™ layer.
Grooved top surface allows better circulation.
Easy to move and change sleeping position.
Zip removable washable cover - Spare covers available.
Shipped as standard with our Outlast™ top cover.
Winter cover as optional accessory - The non-Outlast™ cover will make the mattress will feel warmer and softer.
Prices & Sizes - 22cm thick with zip removable washable cover: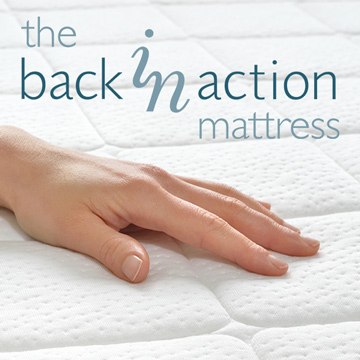 | | | |
| --- | --- | --- |
| | rrp | our price |
| Half King (75 x 200cm - 2'6' x 6'6') | £799 | Today |
| Single (90 x 190cm - 3' x 6'3') | £889 | Today |
| Half Super King (90 x 200cm - 3' x 6'6') | £899 | Today |
| Double (135 x 190cm - 4'6' x 6'3') | £1,399 | Today |
| King (150 x 200cm - 5'x 6'6') | £1,599 | Today |
| Euro King (160 x 200cm - 5'3'x 6'6') | £1,649 | Today |
| Super King (180 x 200cm - 6'x 6'6') | £1,799 | Today |
Back in Action Mattress Cover - Outlast™
£240
Back in Action Mattress Cover - Outlast™
Back in Action Mattress Cover
£200
Back in Action Mattress Cover
"I haven't had to go back to physio since the mattress was delivered, and I smile every time I lie down. It's just brilliant."
How the mattress is structured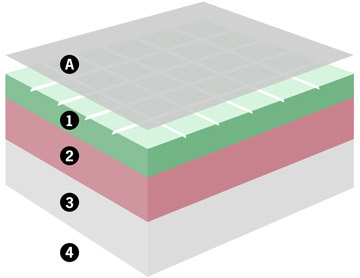 Customer Feedback:
"I haven't had to go back to physio since the mattress was delivered, and I smile every time I lie down. It's just brilliant."
Click here to see what users say...
A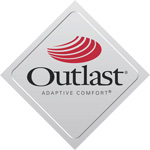 Very high quality Outlast™ cover, suitable for all year-round sleeping. An optional winter cover is available for a warmer, softer feel. Mattress cover is zipped around uppermost edge for easy removal of the top panel allowing for easy washing. No need to remove the whole cover from the mattress.
1 2.5cm 'air-circulating' luxury-soft top layer to ensure mattress feels welcoming even in colder rooms, with grooves ensuring good air circulation.
2 7.5cm high density slow-action foam. The slow-action lets you turn over and move more easily. Maintains exceptional postural alignment while sleeping.
3 Reflex layer gives life to the mattress, provides a perfect, medium level of 'bounce', transmitting only minimal disturbance between partners when changing position at night.
4 The mattress can be used on a solid padded top base or slatted base (where the slats are no more than 75mm apart).
Why is it so good?
This mattress is optimized for those with back and neck problems.
If you've got back pain the key to a comfortable night's sleep is to maintain your spine's curve in a healthy shape.
Most mattresses designed for 'luxury' or 'pressure relief' allow the pelvis to create a load on the spine. Pelvic loading creates a twisting force in the spine while you sleep.
Our mattress was designed to give just the right amount of pressure relief while optimising alignment. When this mattress was designed it was designed just for back pain sufferers.
Don't forget: a mattress is used for more than just sleeping! The mattress has to take the weight of two people on one side of the bed... and one of them has a back problem... then the mattress really needs to give great support. The mattress must make it easy to change position, so remember, our mattress won't 'valley' the way other memory foam mattresses can.
We are so confident in the Back in Action Mattress design that we offer a 60 Night Trial. (As you'd expect there are some conditions - click here).
Showroom Testing:
We haven't worried whether the mattress feels good when you prod it in the showroom. (Most mattresses are made to feel good at first prod... It's an industry trick, so that people will stop and try them). We've made sure it supports you while you are relaxed and asleep, not just in the first few minutes, but all night long.
If you are local, come and try it in one of our 4 stores.
Zero-rated VAT
We promise that our prices are the best you can get, but there may be a way to save even more! There is a little known VAT office concession which allows most Back in Action customers to buy certain products without paying the VAT element. If you (or someone who will be using one of these specific products) are suffering from a chronic/long term condition you should fully explore if this concession applies.
To make it clear: when an item can be purchased at vat zero rating for health reasons, and we offer that option on-line, there will be two pricing options shown and you simply choose the one applicable to your circumstances.
To make sure you don't miss out on this concession here is a brief summary:
To claim the VAT concession both you and the product you are buying from us must qualify.
To decide if your condition allows the concession simply call us. We will talk you through the criteria.
If we agree that your condition justifies VAT relief Back in Action will deduct VAT on the following products:
All Adjustable Bases
Back in Action Mattress
Memory Flex Mattress
Mammoth Mattress
All Mattresses when purchased with an Adjustable Base
Altea Lifting Chairs
MBT Shoes
The Mobiliser
You will be sent a Back in Action Vat Exemption Form with your order confirmation, on which you will simply state your condition, sign it and return it back to us. We sign it and keep it on file with your order paperwork. If you do not return the form inside 14 days then (of course) we will have to charge you the VAT.
VAT registered companies such as Back in Action have their VAT figures checked on average every three years. During this the VAT office will select a few forms and check that everything is correct from your side and ours.
To summarise: As a health orientated centre we are in a unique position to help you claim what is rightfully available. If your condition and the product you are buying qualifies then we will not charge VAT. We provide you with a simple form, and if this is correctly filled in we confirm that we will not charge the VAT. You don't need to provide us with any proof, but you may need to do so to the VAT office if they select your sale as a random check. The majority of Back in Action customers find they are eligible for this relief.
Recommended by: Our Customers
We purchased our Mirror Foam matress from Back in Action Amersham branch few months ago. It was delivered in no time and ever since we absolutely love it. The quality of our sleep is fantastic, the matress is super comfortable. Thank you for helping us making this choice based on our preferences. Special thank you to Shannon who was super helpful, patient and very knowledgeable. Marta

27/12/2014
ordered lunchtime after I was let down by another supplier, mattress had arrived by lunchtime the next day! Great service.

11/12/2011
Thank you SO much for my BIA Mirrorform mattress, which has transformed my comfort at rest. I haven't had to go back to physio since the mattress was delivered, and I smile every time I lie down. It's just brilliant. I have told everyone about you, and will continue to do so. 29/09/2009
To see more customer comments, please click here